Camping
We now offer Tent Hire @ Single/Double $150 –  Family (4 persons) $250 and includes a Full cooked breakfast for each day.  See below for more details.
Campers are welcome to set up a week before the festival, strictly from 7.00am 22th April (ANZAC Day Weekend).
You are welcome to stay overnight until the commencement of the festival for $10 per head per night, children 12 yrs & under free. Volunteers are the only exceptions.
We guarantee a camping spot for you if you have purchased a ticket, but do not reserve particular areas.
There are 4 areas of camping available. Gate ushers will be happy to show you the way to your site of choice.
If you have a disability, please contact Chris on 07 4958 8390 and we will do our best to cater for your needs.
Please remember youth ticket holders MUST arrive and CAMP with their guardian who must be 25 years or older. (Maximum three youths (or children) per guardian).
We are very sorry, due to council restrictions, no fires or dogs allowed.
In the unlikely event Wintermoon is cancelled, refunds will be granted. Otherwise tickets are non-refundable, but are transferable.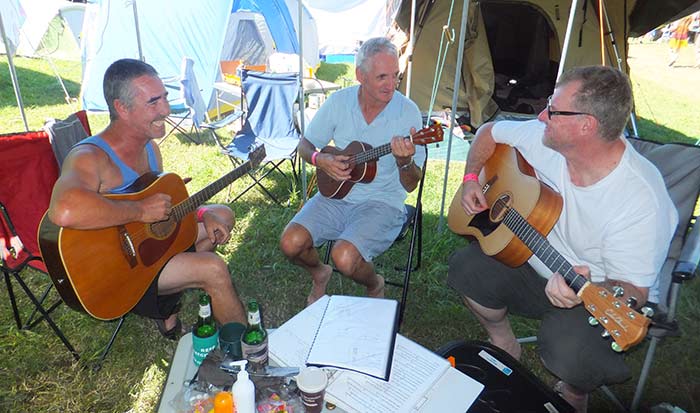 Camping areas
Map below, heading colors represent matching locations on map.
  St Helens Creek:
Camper trailers, small caravans up to 14ft and tents are welcome to use this site but room is limited. No cars onsite after Thurs. 28th April. please. Nearby supervised carpark available. Musical workshops & others such as yoga & Tai chi, will be conducted on & around the Lunar stage. Coffee and light refreshments available from Lunar café piano bar. Hot showers & composting toilets provided at the creek. Due to safety of pedestrians, camps will not be able to exit until 12 midday on the Monday.
  Wintermoon Tent site
A "no-wheels" site. Ideal for tents. Access is provided for your own vehicles to drop off your gear until Thurs. night (28th April). All cars must be removed from this area to nearby supervised carpark after your gear is dropped off please. Help will be given if required to our Friday arrivals to carry camping gear etc. This flat grassed area is very close to all stages & market stalls. Numbers are limited. Hot showers and toilets on site.
  Top Camp
Ideal for larger camps and vehicles welcome at campsite. This large area has a background of rainforested hills and is behind the 'onsite tent' grounds, a short walk to the main stage. Suitable for 4-day camping tickets only as the access road will be closed (due to safety of pedestrians) for exiting until 12 midday on the Monday. Contained, supervised at all times campfires permitted providing no fire ban in place. Hot showers and toilets onsite.
  Stony Creek
1 km from Wintermoon site, spacious, ideal for larger camps and all vehicles. Shuttle bus available during the weekend of the festival for transport to and from festival for additional fee ($20 for weekend pass, 12 yrs & under free). Hot showers and composting toilets. Supervised at all times, contained camp fires permitted at Stony Creek providing no fire ban in place.
Tent Hire
A limited number of Double and family tents are available for hire over the weekend. Price is in addition to your festival camping pass.
Free full delicious breakfast included for each day of the festival.
Tents are set up with mattress and sheet, you just need a Doona, pillow and personal items.
Double tent (for one or 2 persons ) $150
Family tent (for 4 persons) $250
We have a VIP area for these tents or we will place your tent in your ticketed area of choice. We will ring you regarding your preference before the festival.